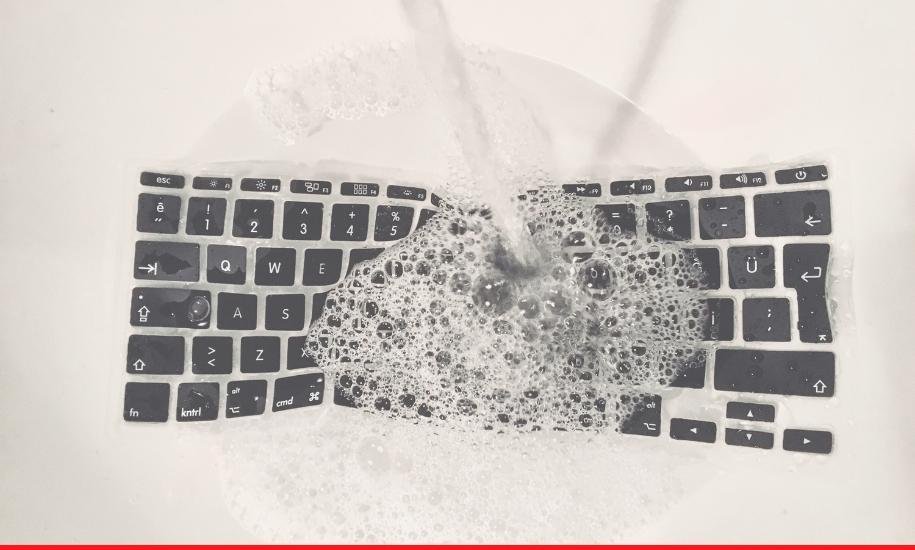 If we talk about Pcs and Laptops, there are many parts of Peripheral devices that are portable in PCs and built-in laptops.
Among them is a keyboard which is actually very prominent and can be observed easily by anyone that's why keyboards must be kept hygienic and clean in every manner. The cleanliness of the keyboard not only represent your hygiene habits but also prevent failures and makes it perform effectively.
The tidy keyboard will instantly destroy your image in front of people around you as the dirt and other substances stick to the keyboard look very unpleasant.
As a mean to keep your keyboard clean, it's always advised to put a cover on. Because the method to clean the cover is easier and safe than cleaning the actual attached or portable keyboard. Moreover, the keyboard covers protect your keyboard from dirt, oil and other related elements that can easily harm your keyboard. Furthermore, our main concern here is regarding the keyboard cover and its cleanliness.
If we look out for best covers for a keyboard, silicone keyboard cover are one of the best choices but it doesn't mean they don't get dirty. Just like an ordinary keyboard, silicone keyboard cover gets untidy too but the positive things is that they can be washed quickly without making any such efforts.
In this writing, we are going to cover that How to clean a silicone keyboard cover along with multiple ways and tips.
What is a Silicone Keyboard Cover?
Silicon Keyboard covers are just like ordinary keyboard covers. What makes it different from others is first of all the material by which this cover is made and many other features of this cover make it distinguished and notable.
Basically, these covers are made up of silicone and look very satisfying to the eyes. Moreover, it allows you to have polite touch on your fingers while typing or writing anything on your Laptop.
Another important thing about silicone cover is that it saves your money a lot.
Why Silicone Keyboard Covers are better?
In contrast to other ordinary keyboard covers, a silicone keyboard cover has its own properties and features.
It gives you a soft touch while typing and prevent any pain in your fingers. It protects your keyboard from any tear and damage such as faded letters and shades and missing keys as they can get out of their place because most of the interaction is done with keyboards.
If you have ever noticed that typing on ordinary keyboards creates loud sounds of pressing keys and while typing, these sounds get even more disturbing and loud, silicone keyboard covers decrease the sound of pressing keys and let you work in a more peaceful environment.
These covers can be easily washed and get immediately clean with no energy. They are reusable and don't get damaged swiftly but run for longer.
Besides these, there are a number of features that makes a silicone keyboard cover more potent than an ordinary one.
Methods to Clean Silicone Keyboard Covers:
Just like every materialistic thing, silicone keyboard covers also needs your special care and attention in relation to its hygiene and proper condition.
This writing will guide you to How to clean a Silicone keyboard cover along with different methods and ways to clean your cover in no time.
The right method to clean your cover is mentioned herewith which you are required to follow and act as written in this article.
Therefore, let's focus on the way of cleanliness of the cover:
1. Clean with a soft towel
If you don't feel like washing your silicone keyboard cover for some reason, you can follow the method mentioned herewith for the purpose of cleaning.
Before you start cleaning it, the first thing you need to do is detach the keyboard cover from the keyboard very carefully.
In a tub, take some water and add soap makes a pure mixture. You can also use any cleaner you want but make sure it doesn't destroy silicone.
Take a fine piece of cloth or soft towel, and wet it by dipping it in the tub filled with a soapy mixture.
With a lightweight and polite manner, start rubbing the towel on the keyboard cover.
Make sure to clean all the depts. and curves in the keyboard by lightly rubbing the dapped cloth.
Now take another towel, dip it in the clean water and wipe all the soapy mixture on the keyboard.
Repeat the process until you are fully satisfied that all the dirt and oil are gone.
Let it naturally dry for some time and your cleaned silicone keyboard cover is yet ready to use.
2. Wash with soap and water
If you don't feel like cleaning your Silicone keyboard cover with a towel, you still have an option to wash the cover without any damage to it.
Aiming to clean the keyboard cover, here is mentioned the detailed method of washing a silicone cove:
Fill a tub with water. The tub must be filled to the extent that the cover can easily be dipped in it.
Now, add a fair amount of soap or other cleaners to the water and mix it well.
Take out the silicone keyboard cover of the keyboard and brush aside the dirt and oil over it.
Dip the cover in the tub filled with soapy mixture and let it rest for 10 to 15 minutes.
Lightly wear down all the elements on the silicone keyboard cover and wash it thoroughly with clean water.
Repeat washing it with the water and dry t with a clean piece of cloth.
Let it rest for some time and reattach it to your keyboard for common use.
Final Words
In conclusion, we would like to suggest you that all the ways mentioned above are the best and effective ways in order to clean your silicone Keyboard cover.
All these methods are tried and recommended for your guide. Thus, this article is made as a guideline for those who have been busy searching about how to clean a silicone keyboard cover safely and effectively without making any special efforts and engaging the unnecessarily huge time.
In the end, we really hope that you have found this article helpful✨.
Thanks for your feedback!